Kevin Cottrell is Executive Director of the Southern California Leadership Network; Vice President, Leadership Programs at the Los Angeles Area Chamber of Commerce; and a Marshall Memorial Fellow.
I am attending the German Marshall Fund of the United States' Marshall Forum in the Research Triangle region in Raleigh, North Carolina. It's a perfect backdrop as this year's Forum is exploring "The Future of Innovation." There is a delegation of six Marshall Memorial Fellows from Los Angeles, and two are also Leadership Southern California alumni. The delegation was sponsored in part by generous support from American Airlines to help strengthen the Marshall Memorial Fellowship alumni group in Southern California, as well as connect them to opportunities across the U.S. and Europe.Our morning on Sept. 17, 2010 was framed by looking at global, regional and urban responses to continue to innovate, despite the massive dislocation we are experiencing as a result of the current economy. We discussed how the competitive landscape is changing at a rate we have never seen or experienced before. We also have heard how in comparative centers of innovation, time and time again, the drive to innovate is fueled and led by immigrants. For example, in the tech boom in the Silicon Valley, more than 52% of start-up companies were founded by foreign-born entrepreneurs. While the U.S. and Europe continue to innovate regionally or domestically, companies scale-up, particularly in manufacturing, in off-shore locations. This is clearly the result of the cheaper emerging talent off-shore.
We also learned a sobering perspective: that the movement of manufacturing off-shore is only one aspect of the challenges we face in a global economy. We are also entering a phase where we will see an unprecedented movement of white collar jobs also moving off-shore a. Dr. James Johnson, Director of Urban Strategies at the University of North Carolina, estimated that 13% of U.S. white collar jobs are now subject to being sent abroad. This has grown due to a movement toward continuity planning since the Sept. 11, 2001 terrorist attacks, as well as a rapidly rising level of knowledge worker skills outside of the U.S. and Europe.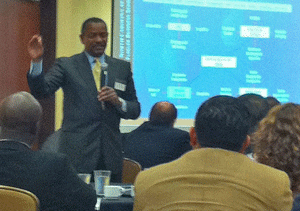 Johnson (pictured at left) went on to forecast that the same problems seen with the U.S. automobile industry- in terms of global competition will manifest again the US healthcare industry. Places like India, Thailand, Philippines, the Caribbean nations and Mexico are all entering the medical tourism business with U.S. trained and Board-certified medical professionals. The implications of this for our industry at home are disheartening.
As John F. Kennedy once noted, "When written in Chinese, the word 'crisis' is composed of two characters: one represents danger and the other represents opportunity."
So, what are the skills we need to rely upon as leaders to not just survive, but even thrive, in the midst of this change and upheaval?
Here are some of Johnson's thoughts:
1. Personal branding is paramount. Get to the core of your values and find ways to credibly share it. Use technology.
2. Display entrepreneurial acumen. Practice taking risks and using leverage to achieve your goals, and encourage yourself and others to be social and civic entrepreneurs. Creating a culture of openness, risk-taking, and sharing of ideas, while challenging the status quo and practicing optimism, is key.
3. Develop context intelligence. Be connected to intensive learning opportunities. Become sensitive to business, economic and social trends. Trends will show you the challenges and opportunities that will emerge. Where are they and what are the shifts? Become a Google alert junkie.
4. Hone your soft skills. Focus on your efforts that build relationships, strengthen networks, and strengthen the way you communicate.
Many of Johnson's comments resonated with me, especially the ideas around civic entrepreneurship and learning that are cornerstones of SCLN programming. In the Civic Entrepreneurship Framework, presented by SCLN Senior Curriculum Fellow Jodi Walker, we discuss with our Leadership L.A. and Leadership Southern California Fellows the importance of 1.) formulating a personal mission statement; 2.) developing accelerated career strategies; 3.) creativity, collaboration and confidence; 4.) thinking skills; 5.) being open to opportunities; and 6.) taking risks for results. These topics have resonated more and more with each of our class Fellows in recent years as competition through globalization manifest in their lives. Along the same lines is SCLN Senior Curriculum Fellow Jeremy Hunter's "Internal Dynamics of Leadership" curriculum component, which focuses on executive education practices dedicated to managing one's self in the midst of dynamic, changing, challenging and sometimes stressful situations. Sign up for Hunter's Take Charge! seminar in November, hosted by SCLN, to experience a half-day seminar in which you can learn the productive power of focused attention, how to skillfully manage difficult emotions and how to positively move forward in the face of change.
Additionally, the emphasis on immigrant innovation has been embraced by SCLN through our Global Connections programming. Through community partnerships, SCLN organizes a series giving background information on the largest immigrant communities in Southern California, providing guidance on developing cross-cultural relationships and demonstrating how these communities lend cultural and linguistic advantages that can be leveraged more effectively for the region as a whole. The next event in the series takes place on Oct. 19 with the Filipino-American community of Southern California.
My reflections on the themes of education, energy, agriculture, science, and politics are forthcoming.
You can follow this year's Marshall Forum on Twitter @GMFUS and #marshallforum.